WORST. WEEKEND. EVER.
Well, I can't say that whole heartedly... Yesterday redeemed it a smidgeon, but yes, it pretty much blew goats. Our air conditioning went out on Thursday and it was 110 degrees yesterday. I am so sick today. It was like sleeping in a damn sauna.
What was so wrong with this weekend? I was BORED. Just plain bored. We had all these grandiose ideas, none of which came to fruition. Friday night's cookout went sorely array... Saturday's beach day got rained out... we went to some lame BBQ on Saturday on the edge of Bucktown, so far on the edge in fact we couldn't find a cab to get back and were forced to buy "helado" from an hombre who no habla ingles. Thankfully, I remembered from 10th grade Spanish how to say "My pants are on fire" and "I am the angel of death." Thanks, Sra. Whitely! To top it off, H and I were too tired/passed out to go and do anything either night.
By Sunday morning, we were bound and determined to have some fun.
We got up at 10 and headed over to Montrose Harbor at 10:30 to watch her sister's soccer tourney. It was Africa hot outside, the kind of heat that feels like you are sticking your head in the oven. It was miserable. And we knew we did not have a nice, cool apartment waiting for us. So we lowered our body temperatures by the E-Coli infested waters of Lake Michigan.
After her sister's team lost, we took her parent's and sister back to our place to show them around. We all grabbed a bite to eat at our favorite little Mexican joint, which was kindly payed for by her parents. It was getting on to 2 o'clock at this point, so we said "fuck it" and headed over to Castaways. Now, I love this place and do not make it over often enought. It's like a little slice of tropical paradise smack dab in the middle of the midwest.

They also happen to serve the perfect margarita.

Erin and Molly

Wow, I look like a scorched sausage. And I still do today. I am beet red and itchy.

Molly just loves her dinglehopper!
We laughed, we scoped, we drank. It was the perfect way to end an imperfect weekend. It got onto 7 in the PM, so I said...

Stick a fork in me, I'm done.
All the girls went out, and I sat my decrepit ass home and felt sorry for myself. I kept wavering back and forth on whether or not to go... Monday is my slow day, so if I am going to go out and have to wake up early the next day, Sunday is ideal. I wanted to have some fun with my girls, but clubbing is not my thing... and I felt much better about not going at 3am when Molly came home and told me how bored she was. I feel like shit now as it is, I can't imagine adding club stank to that.
So in the spirit of the rain that just started and my grumptacular weekend, I am going to be truly unoriginal and pretend I got tagged to do this entry that is spreading like herpes across D-Land. So I present...
5 Things That I Are Popular In Our Society That I Just Don't Get
1. The fact that Hilary Duff has a GREATEST HITS ALBUM coming out. What the fuck? Has she even had one hit song? Where have I been? Can just ANYONE put out a greatest hits album now?!?! She isn't even a real singer! I think she's had two albums! And they both sucked! Oh, the sheer pompousness or her presumption that there would be a demand for someone to actually PAY for one CD that combines the banality of two! Shit, if you are going to acquire Hilary Duff songs in the first place, wouldn't you download them somewhere for free? Anonymously? People like Dolly Parton and U2 can release greatest hits albums. They have actually had GREAT HITS. Dolly's version of "Islands In The Stream" would spur me to purchase her greatest hits album alone! I don't get it Hilary! I am going to keep up on this story. If this album doesn't completely tank, I am moving to Canada!
2. Speaking of bleach blond people with minimal talent, I don't get the worship of Lindsay Lohan. The utter fascination with all things Lindsay in our society chaps my hide. I guess I understood it more when she was a pretty redhead and did fun movies like "Mean Girls." But now that she is bleach blond, twiggy and pale, her appeal is completely lost on me.

I mean, the bitch can't even take care of her teeth. All that throwing up has taken it's toll. This is who we want our little girls to emulate? Who re-makes Herbie the Love Bug when she probably had her choice of scripts (sadly enough)? I think all the retching and diet drugs have depleted her brain cells.

Who does not prefer a busty (by the way, did she have the implants removed to be more stream lined?) well-dressed red head over a...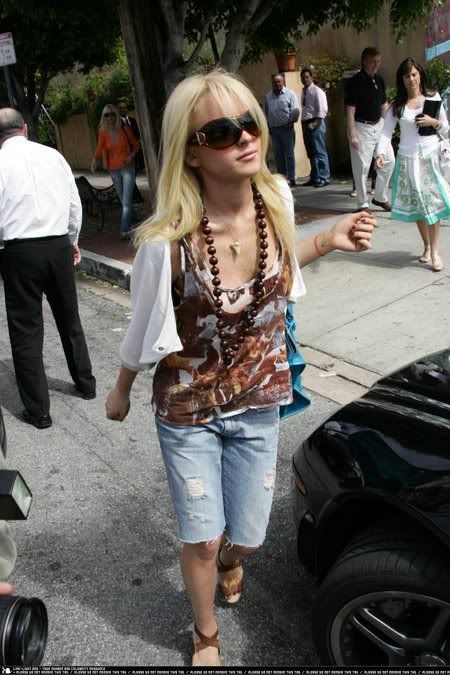 over a skeletal blond that dresses like a bag lady?
3. Those creepy ass American Girls dolls. I guess my irritation is compounded by the fact there is a huge American Girls store a few blocks from me and I see little girls clutching those freaky little mini-thems and wandering the streets daily. I used to receive catalogs for the American Girls collection, but I had the good sense never to travel down that well-worn path. Do know how expensive that shit is? This whole merchandise line is like little girl crack. You can't just get the doll! You have to get all their outfits! All the accessories! The performance trunk! The tiara! Her pets! Her books!

Her matching wheelchair!
Jesus, it's ridiculous! I know these dolls are supposed to encourage little girls to follow their dreams but I think it is yet another grand marketing scheme designed to bankrupt their pushover parents.

And if I have to look at one more cross-eyed little girl holding her doll wearing a matching outfit tightly to her chest, I am going to retch.
4. All of these actors who think just because people worship them that they should run for political office. You aren't qualified, numb nuts! Not just anyone can be a politician!
I am a lefty myself, but shit... there is no way in hell I want the guy who called sat around in his underwear for a Farrelly Brothers movie running a state in our country.
5. Why oh why, at any given rap concert, are there 15 to 38 rappers on stage?

Why can't I understand what they are saying? Why do they shout over each other? And finally, is this supposed to be entertaining?
Ok, I need to pull the stick out my ass, relax and have a merry fucking day. This helps:
And...
Kathy Griffen has some balls. And I admire that.
OOOOH, one last rant.. I am listening to Hitz Radio on my iTunes. D.H.T.'s remake of "Listen To Your Heart" is gut-wrenchingly bad. STOP WITH ALL THE REMAKES! Whether it be movies or songs, can someone get off their ass and be creative and original?
On The iTunes: Hitz Radio. It blows.

((back)) ((forth))


voy·eur (plural voy·eurs) persistent observer of misery or scandal: somebody who is fascinated with, or persistently observes, distressing, sordid, or scandalous topics or events