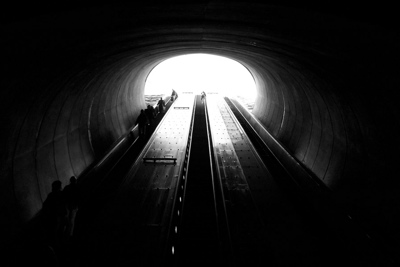 HALLELUJAH.
It's strange. Summer is supposed to be happy fun time and winter is supposed to be bleary, bleak and depressing. Yet this year, it was not so. My winter ruled. My summer blew. I mean, it didn't flat-out blow. There were moments and fun and giddyness punctuated in the empty sadness. I got tan. I lost a bit of weight (and gained it back) and I even went on a boat. But I always felt like there was something missing. I always had a feeling of dread I couldn't quite put my finger on. And I missed Dio horribly in August and September.
Yes, we still talk everyday. But I have not seen him in a month. We are supposed to go out tonight, but he's been saying we are going to hang out for the past month and we have not. We have some things to exchange. Some closure to gain.
Do I want closure with him? Yes and no. I really want him in my life, but it would be difficult as just friends. I have a date next week and I feel guilty about it. But why should I? I am single. Yet, I don't feel single. I feel like any minute he'll come to his senses and forgive me and we'll live happily ever after. He still says the sweetest things to me. I know her misses me as much as I miss him. But with each passing day, he feels farther and farther away and my single status becomes more concrete.
Just in time for my 10 year high school reunion. Joy.
My worst fears have been realized and I am going alone. Well, not alone, but with my gay friend from high school that just moved in down the street. I really did not want to go at all, but my oldest friend is the planner and I would have felt like a bitch if I did not attend. It's next weekend and I don't know what I am wearing. I am getting pale. And my goal of losing 20 pounds before the event was never reached. I sort of gave up since Dio and I broke up.
But I came to my senses and realized I didn't want to miss it. So break out the girdles and the spray tan. Munster High School, here I come!
I am slowly coming out of my funk. I have been in a great mood this week so far. I just need to switch it up, get out of my routine. See new faces. Go to new places. Work on my portfolio. Find new ways to make money that don't involve being an "internet model."
The month of October is going to be a fun one. I have super fun stuff going on each weekend this month. This weekend, I am going down to Purdue with my party girl, Sandy. We are going to meet up with my sista (I updated, biznatch!) and her friends and my friends from college. Next weekend is the dreaded reunion, but since discovering my new fun mindset, I am not dreading it as much. Weekend after is Purdue Homecoming. WOOO! After that is my friend Evie's bachlorette party in Madison, WI. And the last weekend in October is Halloween and we are having a party that Friday. And I am going to be Vicki the Robot from Small Wonder. I came up that idea the day after last Halloween due to a dream I had. And I am sticking to it.
So what would an update be without pictures? I know it is already Wednesday, but I was too lazy to updates Monday or Tuesday. And I am trying to bust it out right now because I have a busy day ahead of me. I need to finish actual work so I can work on my own selfish pursuits.
The Chronicles of Christine (aka LL)
Friday night, I met up with LL and her 2 gal pals to tear up Wrigleyville. But since Wrigleyville was teeming with post-game drunkards, we headed over to Southport Ave. We grabbed a bite and ended up at Lange's, a total hole in the wall that suited our drinking needs perfectly. After playing a lewd version of Photo Hunt for 2 hours, we started interacting with the gentleman behind us. One of them was crossed eyed, one looked like Manuel Noriega, and the other was cute but short. After some empty flirtation with the cute one (while we were seated) we ditched those bastards and said we were going home.
But oh no. We headed over to Nick's Uptown, which is open until 4. Looking for an empty hook up, ladies? Go to Nick's. At 2am, the sharks come out and if you possess any form of breast, it's like blood in the water. The guys there are shameless. The beer goggles are in place. And you can smell the desperation in the air. The ratio is 3:1. It's sick. But fun if you like attention. I was hit on by 5 total chachies in a manner of 30 minutes. One even tried to talk me into accompanying me to his girlfriends apartment. Um, pass. But I did manage to snap a few hilarious photos.

Looking sweet and innocent...

...and then not so much.

Someone bought us Jager Bombs as a full-fledged drink. Thinking it might loosen or morals. Ha ha. We took 'em and ran.

We saw a guy carrying a flute AT THE BAR so we made LL go talk to him. She charmed him into playing us a song.

I couldn't stop taking pictures.

I mean, how often do you see something like this?

Entrancing.
Since nothing could top that, we decided to cut our losses and call it a night. But not before this caught my eye...

How I miss you, Jim McMahon. TOTAL FORESHADOWING. Wait for it...
So following LL home turned out to be the biggest adventure of the night. We lost the guys trailing after us like lovesick puppy dogs and headed on down Sheffield Avenue. First, LL desperately craved a cigarette, so she traded some guy her silver necklace for a Camel Light. I did not photograph this transaction, so we have no proof.
Then, she spotted an abandoned moped...

and decided to strike a pose atop it.
Then she spied the Sheffield House, a place notorious for renting rooms by the hour. She entered...

and told the guy at the front desk some guy named Tom Mac Inroe was going to pay her $10 to meet him there and did he already check in? I was squealing with laughter at the entrance, but her face was stone cold sober as she went on and on about how she wanted her $10. But when an actual couple looking to get busy came in, the desk clerk told her to scram.

Then we came across this guy Sean that I have met through friends and his friend for the night. LL wanted to get one last photo op in before calling it a night.
Keep in mind, this is all in a 2 block radius. Classic.
The next day, I woke up late to a dreary Saturday afternoon. H and I went to breakfast at Zephyr's, a place known for their massive size/ice cream selection/menu. Great breakfast spot with free parking.
We ran errands and I went home to plot my night. I ended up going out with DUM DUM DA DUM! THE LEON! He is every but as studly in person, believe you me. Him, his friend and I had a nice dinner and grabbed some beverages over at Matisse which is my new fave spot for a loungey atmosphere and solid martinis. I was pretty tired so I headed home around 11:30, but not before THE LEON offered me their extra Bears ticket. After sleeping on it and finding out my previous plans for that day had been thwarted, I eagerly accepted his offer and headed off to the Omni Hotel Sunday morning to meet them. It was rainy and crappy, but my spirits were undaunted.

Pretty cherry seats.
It was great. I owe a debt of gratitude to THE LEON for making my weekend fantastic. I am so glad we hung out and you better keep your word and get your butt back in gear. Diaryland needs you. Come back to us!
And with that, it's time to get busy. See you Friday!
On The iTunes: I Had A Dream by Joss Stone

((back)) ((forth))


voy·eur (plural voy·eurs) persistent observer of misery or scandal: somebody who is fascinated with, or persistently observes, distressing, sordid, or scandalous topics or events